More information
Crisis 2021
Bring & Sell
General information
Cr i s i s 2 0 2 1 Canceled
November 6th 2021
Canceled
From our chairman It is with great regret that we have to announce that Crisis 2021 will not be happening. The pandemic situation without clear view on what will be possible in November and under which conditions such as, how many are allowed through the door, will there be a possibility to organise the kind of shows we had in the past where, let's face it, social distancing is not happening at all. Not knowing if any travelling will be able. Will catering be possible ? The simple calcullation between cost and worst case scenario revenue, make it unwise to organise a Crisis in 2021. On top of that the Brexit situation with more than 50% of the traders that are usually attending no longer able to do so without huge customs problems doesn't make it any easier either. Let's hope that 2022 is a better year on November 5th(I know Guy Fawkes night). And who knows a change in UK politics. Keep safe. Johan, President of the Tin Soldiers of Antwerp
Trade stands:
Please contact Willie Bogaerts (willieb@skynet.be)

Club demos:
Please contact Johan Van Acker (johanva@skynet.be)
Registration closes August 31st.
Poster & Free model
Click image to enlarge.

Luitenant Lippens en Sergeant De Bruyne
Click image to enlarge.
Location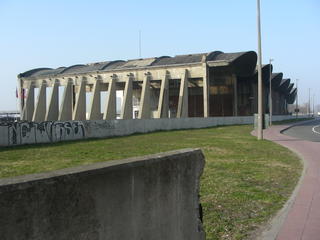 GPS address
HANGAR 29 Waagnatie
Rijnkaai 150
2000 Antwerpen
Inkom
12€ per persoon of 20€ met 8 jetons.
Kinderen onder de 14 jaar gratis.
Entrance fee
12€ or 20€ included 8 tickets for drinks
Children under 14 are free of entrance fee.
CRISIS: BRING & SELL voor leden.
TSA-leden kunnen voorafgaandelijk plaats op de B&S reserveren
. Stuur een mail naar (e.willems@ponet-law.be)
met melding van het aantal meter dat gevraagd wordt. De huurprijs is 15 euro per meter. De reservering wordt pas definitief mits betaling van het huurgeld op de TSA-rekening BE34.0014.6932.6290.